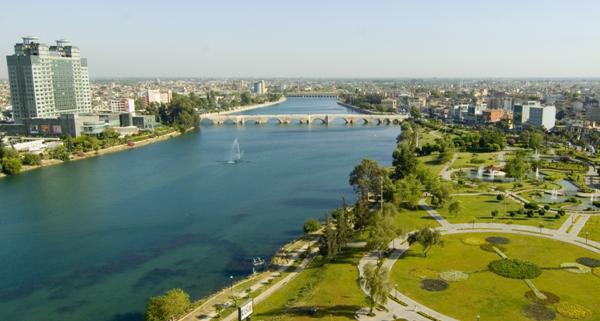 ADANA
With a history dating back to 6000 BC, Adana is one of the oldest settlements in Anatolia and is the fourth largest city in Turkey. Interest in the city is not only due to its collection of historical sites, but it is also renowned as a thriving, modern region. Its population boom (now 1.5 million) can be attributed to its fertile plains, rivers and highlands, which have created a major textile industry, and the city is also an importing trading centre for gold.
Area: 17.253 km²
Population: 1.934.907 (1990)
Traffic Code: 01
Districts : Seyhan, Yüreğir, Aladağ, Ceyhan, Feke, İmamoğlu, Karaisalı, Karataş, Kozan, Pozantı, Saimbeyli, Tufanbeyli, Yumurtalık.
How to Get
By Road Adana can be reached via the D-400 Highway and the international TEM highway. It is 472 km from Ankara along Aksaray Pozanti; 873 km from Izmir via Afyon, Konya and Eregli; and 909 km from Istanbul via Bolu, Ankara and Aksaray. Located 5 km from the city centre, Adana's bus station has services to all areas of the country. Regular bus services include Ankara (10 hours), Antalya (12 hours), Allepo in Syria (12 hours), Konya (7 hours), Van (18 hours) and Kayseri (7 hours). Bus station Tel: (0322) 428 20 47
By Rail Apart from domestic services, there are also international rail connections. There are many trains to Europe, the Middle East, and countries to the north, with connections to the harbours in Mersin and Iskenderun, both of which have ferries. Adana's railway station is 1 km. from the city centre. The main domestic routes are a daily service to Ankara (14 hours), several weekly to Gaziantep (3 hours) and several daily to Mersin (1 hour). Railway Station Tel: (0322) 453 31 72
By Air There are daily flights to Istanbul and Ankara. International flights include Jedda (twice a week), plus weekly flights to Frankfurt-Dusseldorf, Munich via Ankara, and Koln via Istanbul (once a week). The airport is 3.5 km from the city centre and has a 140-vehicle parking lot.
Airport Tel: (0322) 435 42 01 Turkish Airlines: (0322) 435 91 75
Where to Visit
ANCIENT CITIES
Anavarza Located in Ceyhan near the village of Dilekkaya , 20 km along the Kozan-Kadirli road, the ruins resemble an open-air museum. Anavarza Castle still has traces of Roman and Muslim history, with well-preserved relics including the castle walls, the triumphal arch, numerous columns and two pools decorated with mosaics in front of the guard house.
Sar 20 km northeast of Tufanbeyli, these ruins were the scenes of the most important religious Hittite ceremonies, performed in honour of the Mother Goddess Magda-Mater. In addition, there is a Roman theatre and a Byzantine church besides the 6-metre high Ala Kapi, which is made of marble blocks.
Magarsus An ancient port city, west of the modern town of Karatas, the city of Magarsus has the remains of a theatre, temple, church and baths.
Aegaea (Ayas) This ancient port city between Yumurtalik and Ayas has a three-storey watch tower, Ottoman and Roman baths beside the city walls.
MOSGUES
Ulu Cami Built in 1507 in Syrian or Mamluk style, this attractive mosque has black and white marble and decorative window surrounds. Inside is the tomb of Halil Bey, Emir of the Ramazanoglu Turks who ruled before the Ottomans, which contains beautiful mosaics made from Iznik tiles.
Sabanci Merkez Cami This recently constructed mosque has an immense capacity of over 28,000, and is the third largest in Turkey, with the highest dome. Brand new in style, it has six minarets and lies next to the Girne Bridge. Much of its financing was from the Sabanci family, originally from the area and now the second richest in the country.
Yag Camii With one bay originally used as the Church of St James, until incorporated into the main body, the Yag Camii was built in 1501 and has an impressive portal.
BEACHES
The unique highland beauty of Tekir, Burucek, Aladaglar, Horzum Findikli, Hamidiye, Asar, Asmacik, Armutoluk, Belemedik, Meydan, Camliyayla and Kizildag will appeal to tourists wanting to get back to nature.
ADANA HIGHLANDS
The Kozan-Horzum Highland and Çulluuşağı Highland Village
Transportation: Horzum highland is located at the 25 km mark and the village of Çulluuşağı is at the 31 km mark on the highway that connects Kozan, Feke, Saimbeyli and Tufanbeyli districts to Kayseri. There is bus and minibus service to this mountain village year-round.
Description: Much frequented by the people living in Kozan, the Horzum highland is a lovely place with pine and sycamore trees, vineyards and fruit orchards. There are many wooden houses which are beautiful examples of highland architecture. Many modern facilities are available including a health clinic.
Pozantı – Tekir Beldesi (Highland)
Transportation: Located on either side of the Adana-Ankara E5 highway, this spacious highland is 7 km from Pozantı, 107 km out of Adana. Transportation is plentiful and available year-round, as many inter-city buses and smaller minibuses operates in this route.
Description: The highlands of Tekir Highland, Bürücek and Eski Konacık are actually individual neighborhoods of the town of Akça Tekir. Located at the middle of abound pine and juniper trees as well as orchards, the highland accommodates the typical highland houses besides various examples of other architectural styles.
Further attractions of the higland are the protected emplacement of the Ottomans and a Reproduction Station of bezoar goats which are taken under protection by the Forestry Service.
Accommodation – Food and Drink: One may choose to camp here;otherwise there are tourist facilities in Pozantı which is 7 km far away.
Pozantı – Armutoğlu Highlands
Transportation: At the Pozantı – Ankara fork in the road go east towards Sarmısak Mountain. It is a 13 km drive from here along a road that winds through a forest of pine and fir.
Description: This pristine highland is covered with cedar, fir and juniper trees and in the spring there is a variety of wild flowers. There is an abundant wildlife since it is located at the foot of Sarmısak Mountain. Moreover icy waters of the springs flow creating a marvelous spectacle.
Accommodation – Food and Drink: This highland has no facilities. Anyone who plans to camp out will need to bring their own tent and other basic necessities.
Aladağ (Karsantı) – Meydan Highland
Transportation: It is 6 km from Aladağ along a gravel road. It is possible to get a taxi or minibus from Aladağ.
Description: At an altitude of 1700 m, the highland is adorned with juniper, pine, fir and cedar trees as well as orchards. There is electricity and telephone services and structures constructed out of wood and rock, which is typical of highland architecture.
Accommodation – Food and Drink: One can set up camp on the edge of the forest. There are also country restaurants, tea houses and a few small markets.
Aladağ Ağcakise – Başpınar – Bici and Kosurga Highlands
Transportation: These mountain villages, which are located very close to each other (3-5 km), can be reached only by a gravel road.
Description: These pristine highland villages are located in the forest within sight of the nearby Zehli Castle.
Accommodation – Food and Drink: Those who would like to camp out should bring their tents and other basic supplies with them.
Karaisalı – Kızıldağ Highlands
Transportation: It is 27 km from Karaisalı. The road is asphalt.
Description: This highland gets its name from nearby Mt. Kızıldağ and is popular among the locals. There are lots of apple, pear, cherry, sour cherry and walnut orchards in the village and the wildlife is quite abundant. It is possible to hike up nearby Kızıldağ as well.
Accommodation – Food and Drink: There are simple tea houses and country restaurants as well as small markets, a bakery, and meat markets.
Feke – İnderesi Village (Highland)
Transportation: It is a 59 km drive from Feke along a gravel road.
Description: This authentic highland village is nestled among vineyards and orchards. Modern facilities are now available and there is a village clinic and a police station. The villagers make 'Yahyalı' type rugs, carpets and woolen socks as souvenirs for visitors.
Accommodation – Food and Drink: There is a small market, a bakery and some country restaurants.
Tufanbeyli – Kürebeli Highland
Transportation: The highland, located 10 km north of Tufanbeyli, can only be accessible by following a gravel road.
Description: This unspoiled mountain highland has a small lake which is used for irrigation.
Accommodation – Food and Drink: Those who want to camp should bring their tents and basic necessities with them.
Pozantı – Fındıklı Köyü (Highland)
Transportation: It is 10 km out on the Pozantı-Çamardı highway and there are minibuses to the highland from Pozantı.
Description: A typical mountain village, it is surrounded with vineyards and gardens. The infrastructure of the village has been improved and currently there is a village clinic in service.
Accommodation – Food and Drink: There are simple restaurants, a tea house and a small market.
Saimbeyli – Çatak Highland
Transportation: Two kilometers out on the Saimbeyli -Tufanbeyli highway, turn left on a gravel road and go 3km. The road passes through orchards and gardens. Minibuses are operating from the Saimbeyli district.
Description: This is a little village with huge sycamore trees watered by the springs which splash down the mountain slopes. Small platforms have been set up in the trees and they make delightful picnic area. The Çatak highland with its rich springs provides all of the water supply of the Saimbeyli district.
Accommodation – Food and Drink: There is a small facility run by the Forestry Service here.
Saimbeyli – Tufanbeyli – Obruk Highland
Transportation: Located 35km out on the either side of the Saimbeyli – Tufanbeyli highway.
Description: Preferred by nomadic shepherds, this highland is totally unspoiled. The fields of wheat and barley are surrounded by wild flowers in the spring and juniper, black pine and cedar trees.
Accommodation – Food and Drink: There are no facilities available. Those who plan on camping should bring their own tents and other basic supplies.
Kozan – Göller Highland
Transportation: It is a 40 km. drive from Kozan on a dirt road. There are minibuses from Kozan in the summer months.
Description: The highland has electricity and telephones. It is surrounded with forests and there are many wildflowers in the spring.
Accommodation – Food and Drink: There is a country tea house, a small market and a restaurant.
Pozantı – Belemedik Highland
Transportation: Take the gravel road to the village of Anbaş from Pozantı (10 km).
Description: This mountain village founded on the banks of Çakıt Creek has many wood and stone houses made in the highland style. The is abundant wildlife here. The mostly commonly seen animals are mountain goats, wild hogs and birds of prey, such as eagles and falcons.
Accommodation – Food and Drink: Those who want to camp should bring their own tents and basic supplies.
Pozantı – Asar Highland
Transportation: This highland village lies 1.5 km northwest of the asphalt highway to Pozantı-Çamardı. There are minibuses from Pozantı as well.
Description: The local highland houses made of wood and stone are surrounded by pine, fir and cedar trees and there are many fruit orchards. The village has electricity as well.
Accommodation – Food and Drink: Those who want to camp should bring their own tents and other basic supplies.
BIRD-WATCHING
Aladaglar, Tuzla Lake, Akyatan Lake, Agyatan Lake, Yumurtalik Lagoons and Gaver Lake are all Bird Protection Areas, and are in the vicinity of Adana province.
THERMAL SPRINGS
The Haruniye Thermal Tourism Centre in Bahce, Acisu Springs near Aladag, Tahtalikoy Kokarpinar and Kurttepe springs in Ceyhan are known to be beneficial for those suffering from certain illnesses.
SPORTING ACTIVITIES
Surfing is possible in the dam lake of Adana. There are excellent trekking, cycling, and horse-riding trails in the highlands. Fishing is popular around the Seyhan and Ceyhan rivers, and the mountain streams have a good supply of trout. Adana also offers many possibilities for hunting, as well as various wildlife preserves breeding mountain goats, fallow and roe deer at the slopes of Toros Mountains.
Geography
With high mountains and low-lying plains, Adana's climate varies depending on the geography. The climate of the plains is typical of the Mediterranean, with hot dry summers and mild wet winters. The coldest month is January (average temperature 9ºC) and the hottest is August (average 28ºC).
History
Adana, founded on the delta of the Seyhan and Ceyhan rivers, dates back to 6000 BC. The area has had a long string of rulers, starting with the Luvi Kingdom from 1900 BC (a branch of the Hittites), through a succession of Hittites, Phrygians, Assyrians, Persians, Seluicuds and Byzantines. There was an on-off struggle between the Greeks and Persians, which lasted 1000 years, which ended once the Romans came in the 1st century BC. The city first became an important trading centre under the Romans. Following the age of Islam, which began in 638 AD, there were then the Egyptian Mamelukes, the Ramazanogullari (Turks), and the Ottomans who captured the city in the16th century.
Where to Eat
Speciality of the city is the famous Adana kebap, which is made from minced lamb mixed with hot peppers, then charcoal grilled on a skewer. The local drink is called salgam, an unusual mixture of purple carrots, turnips, garlic and lettuce.
Don't Leave Without
– Visiting the Archaeology Museum, the Ethnographic Museum and Ataturk's house. centre,
– Visiting Ulu Camii, Sabanci Merkez Camii, Bebekli Church, the Stone Bridge over the river Seyhan, and the old house of Adana in Tepebas.
– Visiting the ruins of Anavarza, Sar, Misis and the bird sanctuary at Akyatan and Agyatan.
– Feasting on Adana kebap and drinking salgam and aslama (a licorice drink).
– Browsing around the old bazaar and buying a Karatepe rug.
– Watching the historical Festival of Altin Koza.
Sites
Registered Immobile Cultural and Natural Heritages in Adana
Sites
Archeological Sites: 62
Urban Sites: 3
Natural Sites: 4
Historical Sites: –
Other Sites
Archeological and Natural Sites: 1
Archeological and Urban Sites: 1
Total: 71
Cultural (at Single Construction Scale) and Natural
Heritages: 457
TOTAL: 528
Contact Information
Camps
Raşit Ener Tur. Tesisleri İskenderun Yolu 5. km / Adana
Tel: (322) 321 27 58
National Parks And Forest Campsites
Karataş Kumluk, Adana
Tel: (322) 237 22 52
Provincial Cultural Directorate
Tel: (322) 458 84 30-31
Fax: (322) 458 84 29
Cultural Centers
A hall with 370 seating capacity for theatre, conferences, etc. 250 m² Exhibition Hall Library – 500 readers
Contact Address: Sabancı Kültür Sitesi – Adana
Tel: (322) 352 32 91
Fax: (322) 352 68 85
Çukurova State Symphony Orchestra
Address: Adana Büyükşehir Belediyesi Konser Salonu Atatürk Bulvarı – Adana
Tel: (322) 453 68 74
Fax: (322) 458 25 99
State Fine Arts Gallery Directorate
Sabancı Kültür Sitesi ADANA
Tel: (322) 352 46 74
Museum
Adana Museum Address: Seyhan Cad. Adana
Tel: (322) 454 38 55
Fax: (322)454 38 56
Tourist Offices
Provincial Directorate Cinarli Mah.
Ataturk Caddesi no 11
Tel: (0322) 363 1287
Fax: 363 1346
Sakirpasa Airport Tel/fax: (0322) 436 9214
Governorship : (+90-322) 458 83 30
Municipality : (+90-322) 515 84 13
Hospital : (+90-322) 227 25 90
Police : (+90-322) 432 27 77
Gendarme : (+90-322) 323 32 72
Links
Adana Governorship http://www.adana.gov.tr/
Adana Municipality http://www.adana-bld.gov.tr/
Adana Chamber of Commerce http://www.adanatb.org.tr/
Adana Chamber of Industry http://www.adaso.org.tr/